Uppada, Andhra Pradesh
"Our families have moved three times because of the sea entering our village," said Venkateswara Rao, head of the Naikar hamlet in Uppada, which has a coastline of 5 km.
The village is located on the west coast of the Bay of Bengal in the Kakinada division of Andhra Pradesh's East Godavari district.
In 2008, tidal waves caused by cyclone Khai Muk damaged the houses of the villagers. This was not the first time Uppada had faced nature's wrath. The coastal waters of the Bay of Bengal have been wrecking the village for ages.
But, of late, the frequency with which the waters lash the village has increased due to climate change, posing a threat to Rao, his family, his villagers and many such communities living along India's coasts.
India has lost 33% of its coastline to erosion in the 26 years between 1990 and 2006, according to a report by the National Centre for Coastal Research (NCCR), Chennai. The report identified the coastline of Uppada, among other areas, as a high erosion-prone area in Andhra Pradesh.
How has the coastline changed
At 974 km, Andhra Pradesh has the second-longest coastline in India. Between 1990 and 2012, 275 km of this stretch faced erosion, 417 km showed accretion — the process of coastal sediment returning to the visible portion of a beach or foreshore following a submersion event, and 153 km was found to be stable, according to remote sensing and GIS analysis published in 2015.
Table 1: Shoreline Erosion in Andhra Pradesh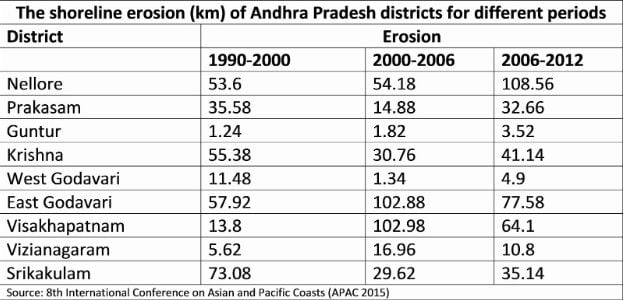 Between 1989 and 2018, the coastline of Uppada eroded at an average of 1.23 metres per year. The maximum rate was 26.3 metres/year in 2017-2018, according to a study by researchers at Andhra Pradesh Space Applications Centre (APSAC). Over 600 acres of land in the Kakinada suburbs have disappeared in the past four decades because of sea erosion; Uppada lost 126.58 acres, an analysis said in 2012.
Chart 1: Coastal Erosion in Uppada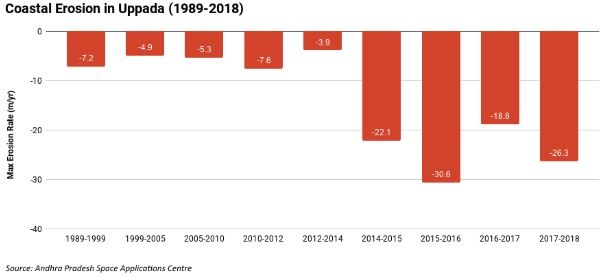 Geotube to check erosion
A project to arrest the erosion in Uppada was started in 2010. Geosynthetic tubes and bags were laid over 1,463 metres of the seashore at a cost of Rs 12.16 crore. The project was undertaken by researchers at IIT Madras. A plan to expand the project to the entire coastline of Uppada at a cost of Rs 135 crore is on paper.
Geo-tubes are giant tubes made of geotextile fabric like synthetic or natural polymer. When filled with sediment and placed parallel to the coastline, they act as a seawall, softening the blows of the waves during high tides, thus reducing erosion.
Initially, the measure seemed to be yielding success. There were positive coastal phenomena at many places in Uppada, with the average erosion rate at -1.98 metres/year and accretion at 7.98 metres/year, making the average shoreline change rate at 6 metres/year.
But the scenario changed soon after, when in 2014-15, the average erosion rate of -6.22 metres/year and accretion rate of 8.8 metre/year made the shoreline change at an average rate of 2.58 metre/year. In the year 2015, when the shoreline saw an average erosion of -3.68 metre/year, the Uppada coast has constantly eroded.
Moreover, the Kakinada-Uppada beach road, along which the geotubes were laid, was damaged in December 2016 by cyclone 'Vardah' and in May 2019 by cyclone 'Fani', weakening the seawall. Later, high waves and storm surges damaged the tubes themselves in February 2017 and in 2018.
A study by Andhra Pradesh Space Applications Centre said that before laying the geotubes, the unstable and dynamic nature of the Uppada coastline was not taken into account, making the project ineffective. The coast has seen constant erosion since 2015 due to changing wave patterns and sediment transport variation, it said.
Geotubes have been laid in other parts of India, too – Shankarpur in West Bengal; in Mumbai; Devbag and Dahanu in Maharashtra; Adani Port in Gujarat; and Candolim beach in Goa. But the result has been almost the same. Geotubes have been found ineffective. They got damaged in Shankarpur, Devbag and Candolim coast.
Chart 2: Shoreline change in Uppada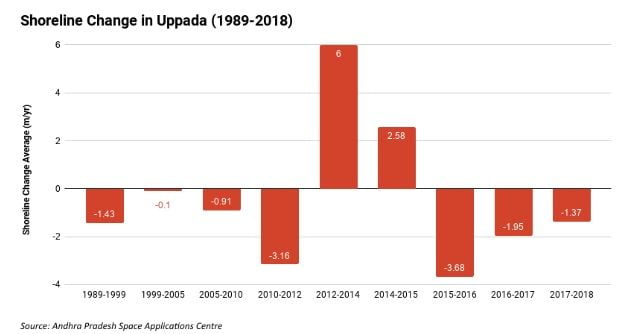 The success of geotubes depends largely on sea wave dynamics, the material properties of the tubes, foundation conditions, local scenario and expertise of the people involved, said the report.
In Sunderbans, a geotubes project has been approved along the 2.3-km coast of Kapil Muni temple on Sagar Island at a cost of Rs 77 crore. In Kochi, Rs 8 crore has been set aside for a similar project in Chellanam village after it was devastated by Cyclone Ockhi in 2017.
"Sea levels are rising due to climate change and are eroding the coastlines. About 4.3% of the world's gross domestic product is being used to protect coastal regions," said K Nageswara Rao, Professor Emeritus at Department of Geo-engineering, Andhra University.
"For instance, seawalls and geotubes constructed in Kerala and Japan were not able to withstand nature's fury. Visakhapatnam has lost 54 hectares of its beach as a result of erosion. Our research has suggested that beach conservation can be feasible if measures like beach nourishment or mangrove plantation are employed. I think we tend to forget that the beach is a part of sea not land," he said.
On the land, not in the sea
The East Godavari district has a fisherfolk population of over 3 lakh, of which more than 70,000 are active. Uppada, considered a major fishing village in Andhra Pradesh, has 3,190 households with a total population of 12,964, according to the 2011 Census.
For the fisherfolk, the sea beach has been the most important natural asset after fish and sea; it is their preferred spot for residence. But, because of erosion, they are forced to leave the coast and shift away, as the sea encroaches upon their land. This has affected not only fishing and related activities, but also taken away an important social space for the villagers.
"Our village temple has submerged thrice in the sea," said Annavaram, 64, a fisherman and one of the village elders, standing in the mandappa (a pillared space for public functions) of his current village temple. When the fish catch is good, he earns about Rs 50,000-60,000 a month. But, he says, that is not enough to feed his family of 16 members.
"This is for the first time in my life that I have seen the government give us land for rehabilitation. We have two government schools – one with classes 1 to 5 and the other with classes 6 to 10; and one private school from classes 1 to 7," he said.
Due to erosion and rehabilitation, the well-off moved away from the beach. But the poor have remained close to the shore, increasing their vulnerability as well as reducing their access to institutional support.
Anand Rao, 27, who graduated in 2014 with a Bachelor's degree in computer applications from Aditya Degree College in Kakinada, is still unemployed.
"My father did not want me to be a fisherman, so I went to a college. But now, even five years after completing my graduation, I have not got a job and I do not have the money to start a small-scale business."
Rao is married and has two children – a boy and a girl. His father, Subba Rao, 50, and elder brother, Bujji, 30, do fishing and his family survives on their income. His friends from college are settled in Bengaluru and Hyderabad.
"Primarily, we are fisherfolk and love our work, but erosion and reduced fish catch have impacted our livelihood. For those who are educated, the biggest problem is unemployment. My father says that any job on land is fine, not in the sea," says Anand with a hint of uncertainty in his eyes.
(Reporting for this story was supported by MS Swaminathan Research Foundation and Internews)