"The police had first put my husband in detention and thereafter took him away on December 20 on charges of instigating a riot. He had not even been at the protest. I don't know how he'd be faring at the jail, whether he is taking his medicines or not," said Malka Bi, 67, her voice choking. Malka Bi's husband, Mohammad Shoaib, is a lawyer and the head of Rihai Manch –a social organization based in Lucknow. He has been arrested following the protests against the Citizenship Amendment Act turned violent in Lucknow on December 19.
The Lucknow police have filed 33 cases and arrested 48 people in connection with the violence of December 19. However, among the arrested are many people associated with civil society or are social workers. They include the head of Rihai Manch, Mohammad Shoaib, Congress spokesperson and social worker Sadaf Jafar, retired IPS officer SR Darapuri, theater artist Deepak Kabir and local degree college professor Robin Verma. Out of these, Mohammad Shoaib and Darapuri are senior citizens aged above 70. Their arrest by the police seems questionable.
Talking about the arrests, Suresh Chandra Rawat Lucknow's IG (east), said: "Around 44 people have been arrested from the eastern part of Lucknow. Most of these are local residents. They are in the age group of 18 to 40 years." Commenting upon the arrest of the members of the civil society, he said: "A criminal is a criminal. It doesn't matter much who he is associated with. The police have adequate proof against these individuals."
Meanwhile, the family members of the arrested members of civil society and social workers have claimed the opposite. Mohammad Shoaib's wife Malka Bi said: "The police had surrounded our house by December 18 whereas the protest was scheduled for the next day in Lucknow. That day, Shoaib saheb was not allowed outside so he remained in, the entire day. Then, on December 19, at quarter to midnight, he was arrested and taken away by the police".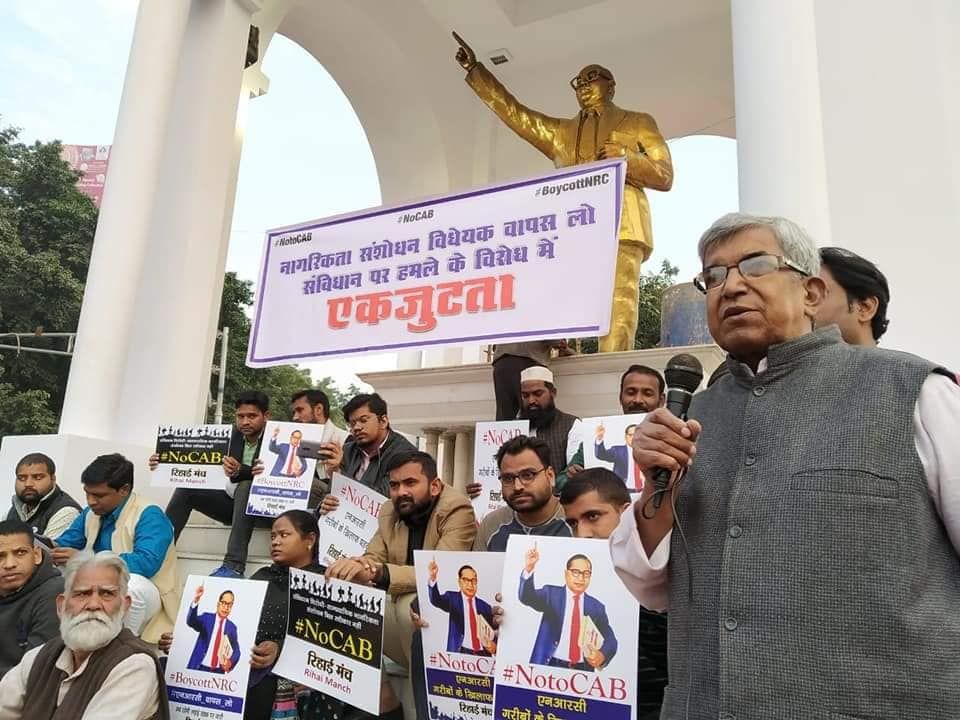 Talking about the day her husband got arrested, she said: "We were sitting in the lobby on the night of December 19 night when three policemen came and asked for him saying that the CO saheb, sitting in Nazirabad, had called for him. At being told that he'd be sent back soon, he left with them just like that without his mobile phone or spectacles. Thereafter, we got no news of him as to where he might be. I got worried by the time the clock struck one. He is a heart patient so I was worried about him missing his medication."
"When we managed to get the SSP's number, I called and told them that my husband had been taken away by police and that I don't know as to where he might be taken to. Soon two policemen came and told us not to worry and took his medicines with them. But I kept sitting throughout the night. I heard nothing of him even the next day. It was on December 21 that I came to know that he'd been sent to jail," said Malka Bi.
Just like Mohammad Shoaib, Darapuri was also previously detained by the police and was arrested post violence. Darapuri had posted a picture on Facebook on the morning of December 19 stating: "Today morning's police siege for my detention by the government fearing the protest 'Bharat Bachao'. Thereafter, at 12 noon, he shared another photo on Facebook wherein he held up a placard stating: 'Nagrikta Bachao'. Sharing this he had mentioned, 'protest continues despite house arrest'.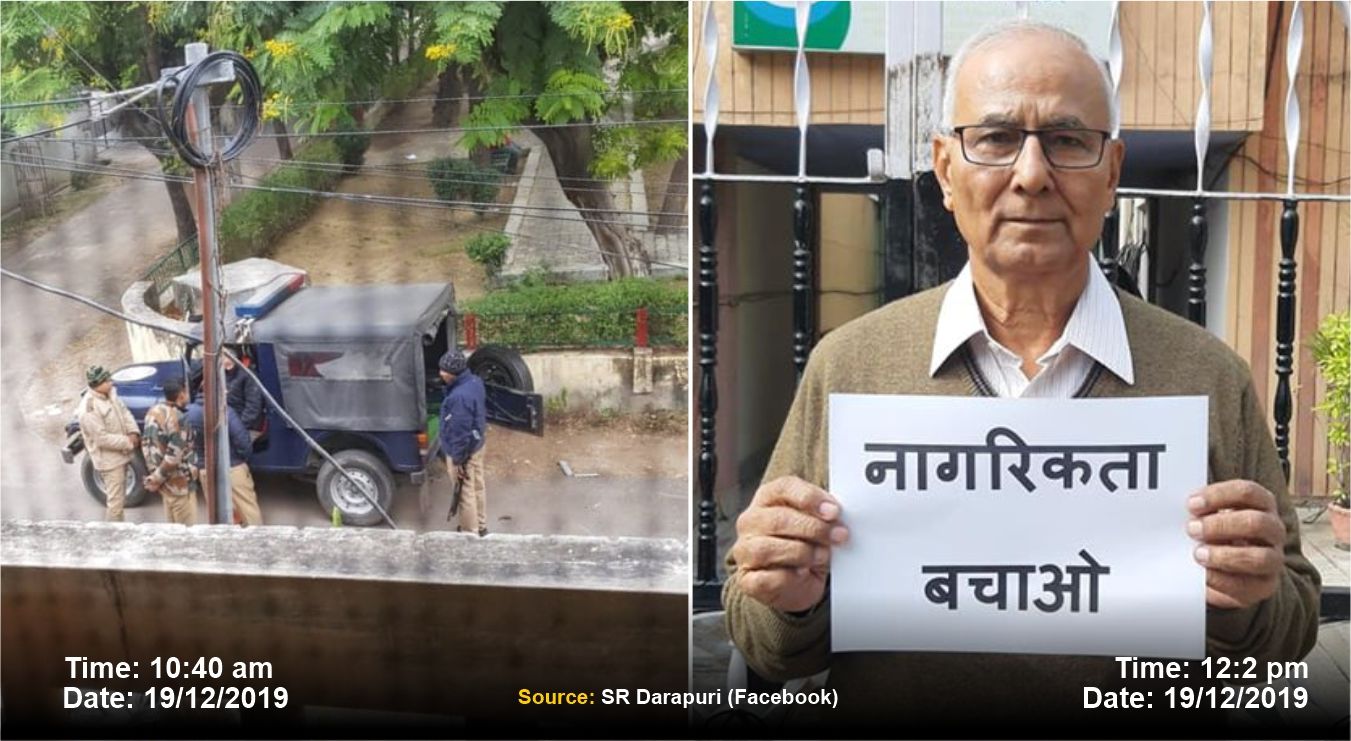 Ved Kumar, son of Darapuri, told Rural Connection: "He was put on house arrest on December 19. He remained in the house. A policeman sat till 3 pm on the 19th. My father did not go out. When he saw the violence on TV, he got worried saying that it should not have happened."
"Next morning (on December 20) at 11.45 am policemen came in a Bolero to whom father had jokingly asked whether they had been sent to arrest him. Policemen replied that it was not the case and that he was required at the station for a formality and may return after a while. So, my father agreed and left with them after shaving. When we didn't hear from him, I sent a person to the Ghazipur police station to look for him. They told him that my father was not there," he added.
"My mother complained on 112 following which we received a call from Ghazipur police station that we had complained uselessly as he was very much in the police station. When I asked to be spoken to him, they told me to come to see him. I took tiffin and some medicines for him and fed him there. But when we called for him at 5 pm, we came to know that he had been transferred to the Hazratganj police station. He had called from the station asking for food and woolens, but when I went with the things, I couldn't meet him and was informed that he has been jailed. Since then, I am running around to arrange for his bail," informed Ved.
Like Darapuri and Shoaib, Congress Spokesperson and social worker Sadaf Jafar had also been arrested by Lucknow police on December 19 on charges of instigating a riot. She was apprehended from Parivartan Chowk while she was streaming Facebook live to show the vehicle that had been torched by the rioters. She had previously uploaded other live videos on Facebook wherein she had spoken of the police controlling the rioters.
In her case, it is also been alleged that she had been tortured and beaten up in police custody. When we tried talking to her family members, they were visibly shaken up and too afraid to speak. Wishing to be anonymous we were told by one of them that Sadaf had been badly beaten up by the police and has sustained internal injuries. She was actually making on-the-spot videos to aid the identification of the rioters. She was not involved in any violent act. They have sought legal remedies for her bail.
The demand for her release has been voiced loudly on social media. Meanwhile, Congress chief secretary Priyanka Gandhi has also tweeted on the matter. She has written that the party worker had been telling the policemen to arrest the rioters while she was badly beaten up and arrested by the Uttar Pradesh police. She is a mother to two young children. It is an outrage and shall not be tolerated a bit. Priyanka also had demanded her immediate release.
The Lucknow police have also released a statement on the matter. Suresh Chandra Rawat, the IG of Lucknow, has said: "Sadaf Jafar has been arrested while rioting near Parivartan Chowk so it was an arrest as per laid rules and before sending her to jail, her medical examination was done. We have ample evidence against her and all her charges against the police are baseless and untrue."
164 FIRs and 879 arrests
Meanwhile, the Uttar Pradesh police have been arresting people from across the state on charges of violence during the protests against the Citizenship Amendment Act. As per the Uttar Pradesh police records, so far, 164 FIRs have been lodged and 879 arrests have been made. Around 5,312 people have been held for peace disruption. In these incidents of violence, 288 policemen have been injured, out of which 61 have sustained bullet injuries. The police have recovered 647 shells, 69 cartridges and 35 illegal firearms.
The police have also acted upon objectionable posts on the social media lodging 76 FIRs and arresting 108 people. Around 15,344 posts have been acted against including Facebook, Twitter and YouTube.