The glorious textile tradition of Jammu — the pattu blankets, stoles and mufflers weaved in the region are as remarkable as its apples, dry fruits and saffron — is dying a slow death.
The hilly villages of Latti-Dudu-Basantgarh in Jammu's Udhampur district, about 6,000 feet above sea level, have been home to many families engaged in making pattu blankets and shawls for generations. They are now turning to other professions due to the low profitability of the business.
"This art is almost dying in this part of Jammu and Kashmir," said Bittu Ram, a weaver.
Pattu is a special kind of muffler or stole made of sheep wool and is traditional in look.
Pattu weaving was once popular in the Latti-Dudu-Basantgarh belt. But there has been a steady decline in the number of weavers — only about 40-50 are active now.
"This weaving art in Jammu is dying due to lack of publicity and marketing," said Abdul Qayoom, 80, of Latti-Dhuna village.
Qayoom is one of the oldest weavers in the area. He has been in the business for 50 years and has been practicing the traditional art for 65 years. He is an expert in making the gulband, the traditional mufflers knitted with sheep wool that are used in the hilly belts of Jammu and Kashmir.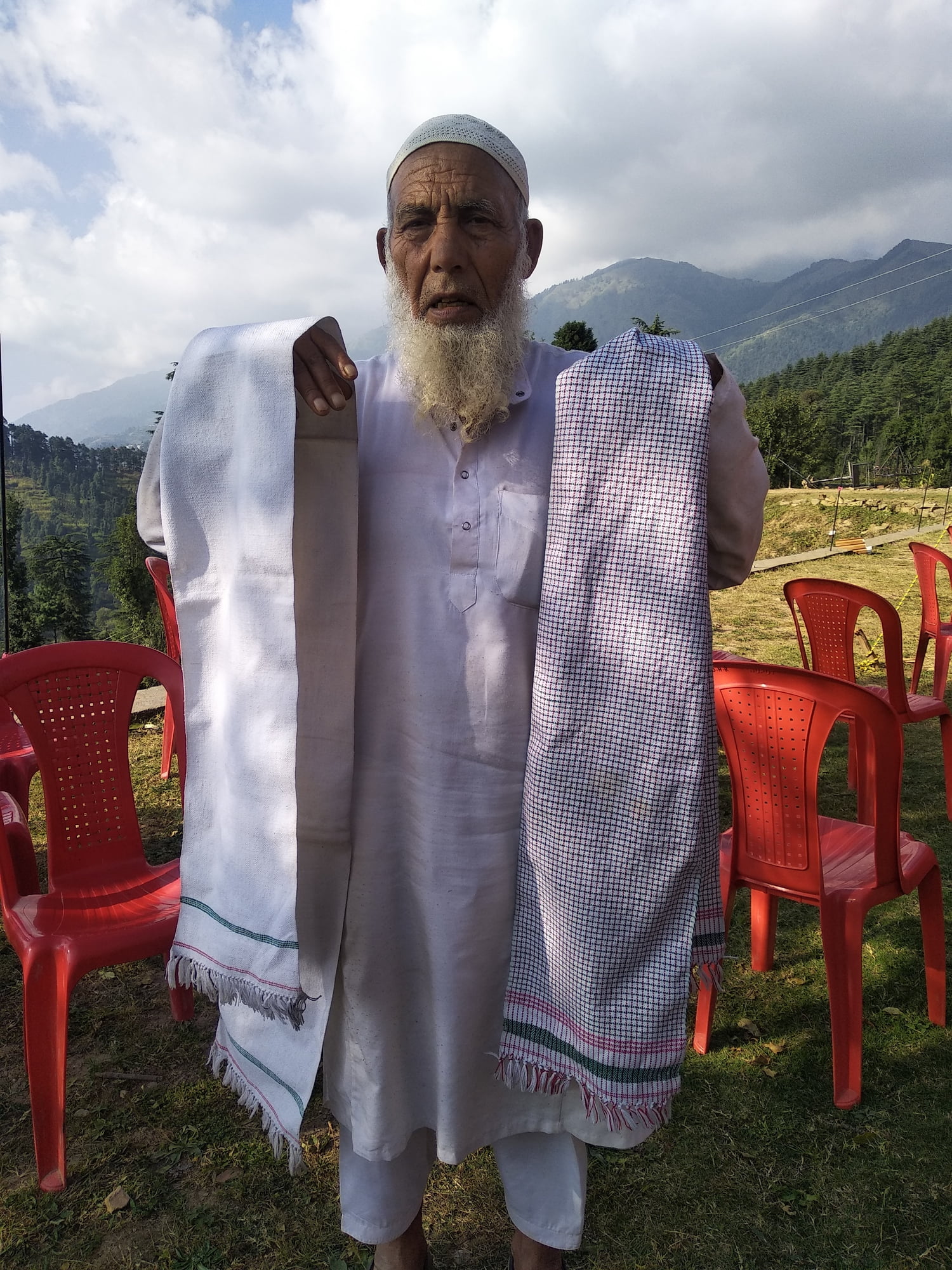 "We sell this pacchon (blanket) at the rate of Rs 500-600 per piece to wholesalers, who then sell it with a profit margin of 50-100%," Qayoom said. "In Kashmir, a shawl sells for Rs 65,000 just because it has a made-in-Kashmir tag."
Not surprisingly then, about 30,000 rural workers still weave and embroider shawls in Kashmir. But, in Jammu, only a few thousand are involved in the occupation. Even among them, many do it as only a side business since it is not as lucrative as in Kashmir.
"It takes 8-10 days to make a blanket and 5-6 days to make a shawl in the old traditional machine called 'khatti'. It is a wooden machine used to prepare these mufflers, blankets, stoles and shawls," said Qayoom.
About 20-30 years ago, when it was their main business, the weavers made 10-15 shawls and a similar number of blankets a month. A blanket then fetched Rs 35-50 per piece and a shawl was sold for Rs 100-250.
Now, weavers in this part of Jammu make about 3-5 blankets a month and a similar number of shawls. They sell a blanket for Rs 500-600 and a shawl for Rs 1,200-1,500. A shawl's cost depends on the intricacy of work and the quality of wool; some shawls cost Rs 3,500-5,000.
Many weavers still prefer hand-weaving; for them, finding the quality wool is imperative. Usually, sheep wool, known as pattu, is used to make the shawls, blankets and mufflers. The wool costs anywhere between Rs 20 and Rs 50 per kg.
According to weavers, 400 quintals of carpets and blankets were exported from Jammu and Kashmir in 1973-74. The figure rose to about 5,750 quintals in 1995-96, but fell to 650 quintals in 1999-2000.
The major export markets are the USA, Germany, the UK, Australia and Canada. Weavers, however, point out that most of the textile exports are from Kashmir.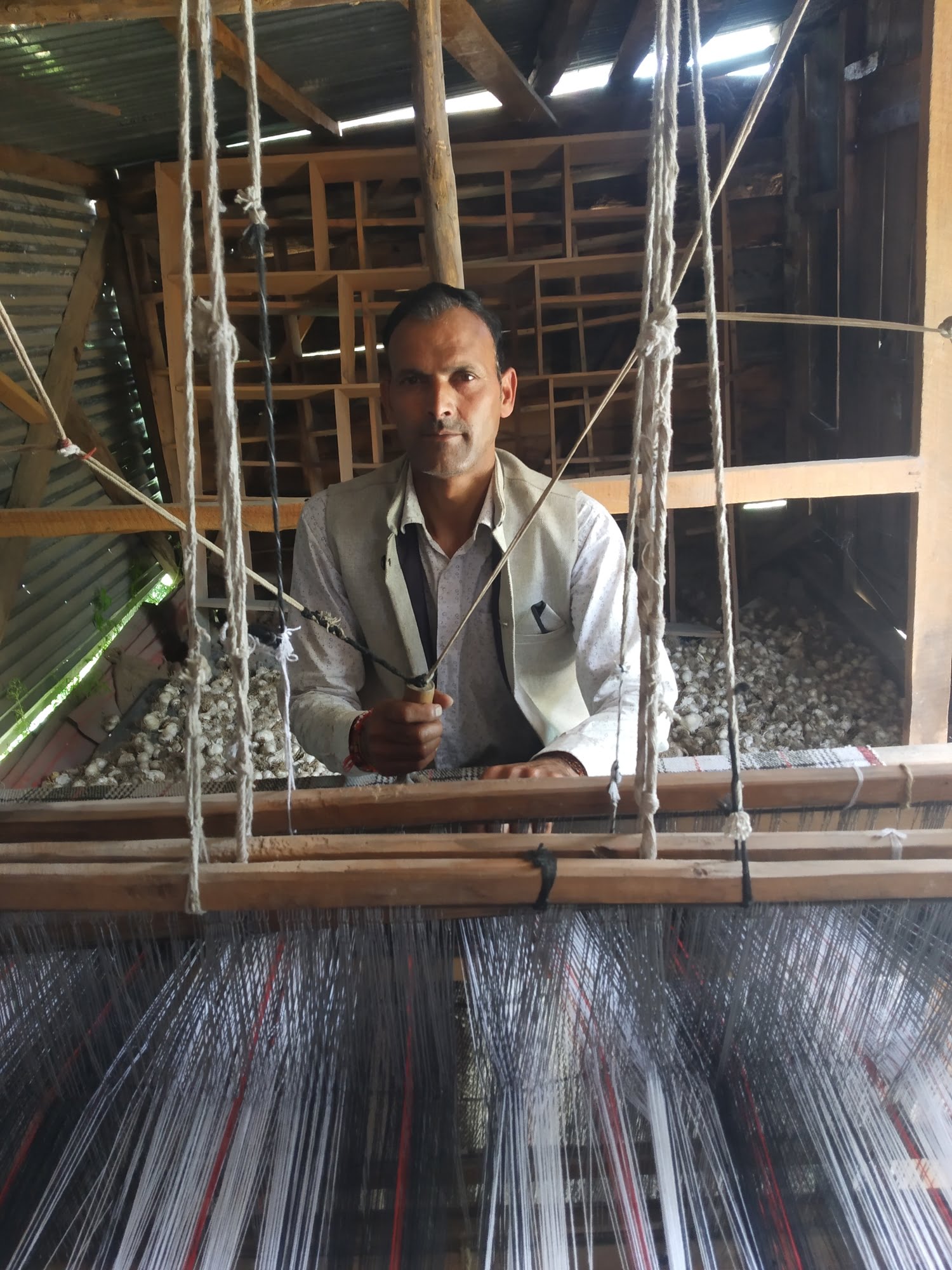 History of Jammu art and textile weavers
In Jammu and Kashmir, the earliest records of tapestry designs date back to the seventh century, according to the J&K handloom department.
It is believed that the art of making Jammu Kashmir carpets, blankets and shawls originated in Persia, but many artists say it evolved locally.
In the sixteenth century Mughal period, there was a boom in the popularity of Kashmiri shawls. Handmade blankets and shawls made Jammu textile art also popular.
The popularity of Kashmiri shawls, which were primarily worn by kings and royal courtiers in India, spread beyond South Asia in this period. By the mid-18th century, the shawls became popular among the European elite, mainly the French, said officials at the department. The Kashmiri carpets also became well-known.
However, the shawls, blankets and mufflers made in Jammu never earned that kind of international fame.
Art and textile before and after independence
The art of shawl-making — from cleaning of raw fleece to the entire needlework (designs on borders of shawl and mufflers) — has been passed down through generations in the villages of Latti, Dudu, Basantgarh. In Kashmir, the womenfolk are primarily involved in the craft, but in Jammu, it is mostly the men.
After India's Independence, when J&K was no longer a princely state and was governed by popular governments, the textile art of Kashmir flourished, but that of Jammu floundered. The weavers were largely unrewarded. Now, there is a greater appreciation for the art. But the trade is now highly commercialised and that has resulted in a decline in quality, complain many weavers.
The different categories of Jammu and Kashmir handicrafts are shawls, blankets, mufflers, stoles, carpets, papier mache, wood carving, walnut wooden crafts, Namda, basketry, crewel, chain stitch, gabba, willow, copperware and Khatumbandh.
Kasturi Lal Gupta is the sarpanch, or the village head, of Latti. He has been trying to revive the age-old business. He believes the textile art can be popularised through the use of social media, as was done by weavers in Varanasi.
"I have met the deputy commissioner as part of a delegation to request that the administration support weavers. I would also like the Prime Minister, Narendra Modi, to highlight this art of Jammu, like he did for the Banaras weavers," said Gupta. He said the minister of state for the PMO Jitendra Singh, being an elected representative in Parliament from this area, would also be aware of the problems of the weavers.
Mohammad Tariq, a young man of Dudu, wants to take the business legacy of his family forward. He said, "Nearly 90% of the demand for carpets in the country is from the carpet-producing units in Amritsar, Rajasthan, Agra, Uttar Pradesh and Andhra Pradesh. The export of garments from Jammu and Kashmir has gone down. We want the new government of Jammu and Kashmir Union territories to revive this old business and help the textile art flourish with the help of new technology."
"With the revocation of Article 370 and the reorganisation of J&K (Jammu and Kashmir) as Union territories, there is a ray of hope among weavers," said Bittu Ram, the weaver quoted earlier.