Chinnathurai village, Kanyakumari
Two years ago, on October 11, 2017, Silverani Remmiyas's world came crashing down. Her husband, Remmiyas, and younger son-in-law, Antony — both fishers from St Jude's Colony in Chinnathurai — met with an accident in the sea and died. Antony's body was found and buried, but Remmiyas's body was lost in the sea.
While she was still recovering from the shock of two deaths in the family, the next month, in November 2017, she lost her son, 32-year-old Rekesh, and the older son-in-law, Andrew. Both had gone fishing to the sea when Ockhi cyclone brushed the tip of peninsular India in Kanyakumari district. They never returned home. It is believed that Rekesh and Andrew's boat was caught in the cyclone and both died in the sea. Their bodies were not found.
Like Silverani, there are several young and old women in coastal fishing villages of Kanyakumari district in Tamil Nadu and Thiruvanthapuram district in Kerala who have lost their husbands, sons or fathers in Ockhi cyclone. Some still await their loved ones to return home.
"In the wee hours of November 30, 2017, when Ockhi cyclone hit the tip of South India, there was no information or warning to fishers about the cyclone," said T Peter, general secretary of National Fishworkers' Forum, Thiruvanthapuram. "Hundreds of fishermen were already deep in the sea and were caught in the intense storm, over three-meter high waves and high-speed winds. Some managed to return ashore. But, many perished," he added.
Officially, the death toll due to Ockhi cyclone in Tamil Nadu is 204 —- 27 dead (dead bodies found) and 177 'missing' fishers (bodies not found, but declared dead to release monetary compensation). In Kerala, the official death toll is 143 — 52 dead and 91 'missing'.
"This is the first time, we have lost so many fishers in the state to a cyclone," Julius Edwards, deputy director with the department of fisheries, Government of Tamil Nadu told Gaon Connection. A similar statement was made by an official of the fisheries department of the Kerala government claiming never before has Kerala lost so many fishers to a cyclone.
However, local fishers claim the official death toll does not reflect the real loss. "As per our estimate, about 300 fishers died or went missing in Kerala alone due to Ockhi cyclone. And, most of these belonged to Poonthura and Vizhinjam in Thiruvanthapuram district," said Peter.
A similar list prepared by local fishers in Vallavilai area of Kanyakumari district has names of 229 dead or missing fishers. In Thoothor and Poothurai areas of Kanyakumari, 11 and 12 fishers are 'missing', respectively.
"The India Meteorological Department did not inform the state government in time about the approaching Ockhi cyclone because of which fishers could not be warned and stopped from venturing into the sea," said an official of the fisheries department of Kerala government.
Ockhi, an unusual cyclone
"Cyclone Ockhi was an unusual phenomenon, which was evident in its rapid intensification," reads Report No 216 — 'Action taken by government on the recommendations/observations contained in the two hundred eleventh report on the cyclone Ockhi – its impact on fishermen and damage caused by it' — which was presented to the Rajya Sabha on February 7, 2019.
Ockhi cyclone started off as a low pressure area over southwest Bay of Bengal in the forenoon (0830 IST) of November 28, 2017. Under favourable environmental conditions, it concentrated into a depression in the forenoon (0830 IST) of November 29. Moving westwards, it crossed Sri Lanka coast after some time (see map: Observed track of very severe cyclonic storm Ockhi).
Continuing its westward movement, it emerged into Comorin area (Comorin Sea is south of Keralaand Tamil Nadu and west of Sri Lanka) in the evening (1730 IST) of 29th and intensified into a deep depression in the early hours (0230 IST) of November 30. It further moved northwestwards and intensified into a cyclonic storm in the forenoon (0830 IST) of November 30 itself.
While moving west-northwestwards, Ockhi intensified into a severe cyclonic storm over Lakshadweep area in the early morning (0530 IST) of December 1 and very severe cyclonic storm in the afternoon(1430 IST) of December 1.
A report by the India Meteorological Department (IMD) notes the unusual features of Ockhi cyclone: "There was rapid intensification of Ockhi during its genesis stage, as it intensified into a CS [cyclonic storm] at 0830 IST of 30th, after its genesis as a depression at 0830 IST of 29th (within 24 hrs)." The report goes on to mention that the cyclone"intensified from deep depression into a cyclonic storm over Comorin area within six hours." This intensification normally takes two days.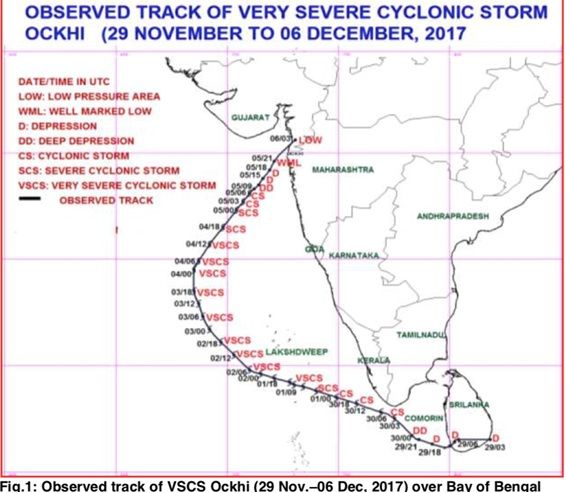 Apart from rapid intensification, the path of Ockhi cyclone was an unusual one, too. It isn't common for cyclones to strike the west coast of the country. Most cyclones are formed in the warmer waters of the Bay of Bengal and hit the eastern coast of the country.
Between 1891 and 2017, Ockhi is the fourth cyclonic storm to have developed over the Comorin Sea. The last three recorded cyclonic storms in that region were in Dec 17-19, 1912; November 6-10, 1925; and November 19-22, 1925.
Ockhi was, thus, the fourth cyclone since 1891 to have impacted Kerala. Clearly, the state had little knowledge or preparedness to deal with a cyclonic storm.
Forecasting and communication delay
On November 28, 2017, noontime, the IMD issued first information regarding the formation of a depression in the next 48-72 hours in its Tropical Weather Outlook. Next day noon, it issued a bulletin indicating the west-northwestward movement of the system and its possible emergence into the Comorin area by November 30.
However, the system emerged into the Comorin area during the night of November 29 itself and further intensified into a deep depression in the early hours of November 30 and into a cyclonic storm in the forenoon of same day.
As per an IMD report, "cyclone watch/alert could not be issued due to unusual rapid intensification over the Comorin Sea." The cyclone specific advisory was issued only from November 30 at noon for south Tamil Nadu, South Kerala and Lakshadweep.
Meanwhile, first warning for fishers along and off south Tamil Nadu, south Kerala and Lakshadweep Islands to not venture into the sea was issued at 1150 hrs IST of November 29.
But, by then it was already too late.
"My son Rekesh used to work in Dubai and returned back to our village after my husband's death in a sea accident in October 2017. A month later, on November 29 morning, my son-in-law told Rekesh to accompany him for fishing," narrated Silverani. "They both left for fishing and never returned home. I could not even bury them. Had we fishers been informed on the 28th night or 29th early morning, two lives in my family would have been saved," she added wiping tears off her sunken eyes.
Rekesh died on November 30, 2017, while his wedding was fixed for December 20 the same year. Silverani received Rs 20 lakh each as compensation towards her dead son and son-in-law. "I don't want the money. I want my children back," she howled and cried.
Somewhat similar is the pain of 46-year-old Kinu Johnson, another fisherwoman from Chinnathurai village in Kanyakumari. Her husband went fishing on November 29 and never returned home. Kinu has developed mental illness, is bed-ridden and can no more talk. Her only daughter studies in Chennai, while Kinu's neighbours look after her.
The February 2019 report presented to the Rajya Sabha reads: "…the advisory issued on 29th November did not clearly predict a cyclonic storm and, therefore, it was not taken with the seriousness it deserved. Moreover, rapid intensification did not leave enough time for the IMD to issue a cyclone watch or alert and, therefore both the affected State Governments and the people were not sufficiently alert. Officially, a cyclone specific advisory was issued only on 30th November, the very date of the arrival of cyclone Ockhi but by then many fishermen would have already ventured out to sea."
According to Peter, one or two days advance cyclone warning may not be sufficient for fishers of Kanyakumari. "Kanyakumari fishers go very deep in the sea and remain there at a stretch for 20 days to a month," he said.
Julius Edwards, deputy director with the department of fisheries, the Government of Tamil Nadu made the same point. "The majority of fishers in Tamil Nadu go for one to three days of fishing voyages. But, fishers in Kanyakumari district have a practice of undertaking 15-20 days long fishing voyages extending up to 200 nautical miles from our coast [1 nautical mile = 1.85 kilometers]. They go till and beyond Lakshadweep for fishing," he informed.
"The existing communication systems with fishers, such as mobile phones and VHF [very high frequency] sets, do not function beyond 12 nautical miles and 50 nautical miles, respectively. Hence, communicating with fishers in the deep sea is a challenge," said Edwards.
Fifteen-year-old Kaizar of St Jude's Colony in Chinnathurai was one such 'fisher' who used to go for month-long fishing voyages. Born on December 1, 2001, he studied till standard 8th and gave up studies when his father died of cancer in January 2017. "He used to work as a cook on the fishing boat and was youngest among all the fishers," said Mary Filo, the 50-year-old mother of Kaizar.
"Kaizar left for fishing on November 19, 2017 and was expected to return in 15-20 days. But, it's been close to two years and I am still waiting… He died two days before his sixteenth birthday," she told Gaon Connection. Kaizar's body could not be found. With both husband and son dead the same year, Mary now lives with her 19-year-old unmarried daughter.
Survived, but scarred for life
While a number of fishers never returned home and died in the sea, some managed to brave the Ockhi cyclone and got back to their homes. But, they are unable to lead a normal life.
43-year-old Micheal, resident of Poonthura fishing village near Thiruvanthapuram, used to work as a coolie fisher on a fishing boat. Along with nine other fishermen, he left for fishing on November 29, 2017. Their boat was caught in the Ockhi cyclone and destroyed.
Next day, on November 30, a group of fishers from Poonthura risked their lives and entered the rough sea to bring the fishers back. "Micheal was rescued on 30th night, but was hit on his head by another boat in the sea. He is paralysed and bed-ridden," informed 32-year-old Silvadassa, Micheal's nephew.
Silvadassa, too, had gone fishing on November 29. "By 7 pm, the sea had got very rough and there were strong winds. We anchored our boat [in the sea] thinking the sea will calm down in sometime," he narrated to Gaon Connection. "But, by 3 am on November 30, the situation had worsened. The storm was intense and our GPS was not showing any landmark. Without knowing which direction we should sail to, we kept moving around the rough sea for eight hours and reached the shore only at 11 am," said Silvadassa, who has given up fishing and does daily-wage jobs. "I do not want anyone in my family to become a fisher," he said.
62-year old Gracis from Poonthura spent three days in the rough sea before he reached the shore. "I am fishing since the age of 18 years, but never have I seen such a storm in my life. We were crying, praying and trying to keep our boat afloat. When we reached the shore on December 1, we were shocked to see dead fishers lined up on the beach," said Gracis, who has developed high blood pressure and is scared of wind and sea waves.
Sister Ambika Sony, who works with 4,200 fisher families in Poonthura village, said: "In Ockhi cyclone, 35 fishers from Poonthura died in the sea. Those who survived are facing both physical and mental health issues. Women, who lost their loved ones, are emotionally disturbed."
37-year-old Libin is a rare fisher from Chinnathurai village in Kanyakumari who returned home. "I, along with seven more fishers, left for fishing on November 24, 2017 and was near Minicoy island in Lakshadweep, when our boat got caught in the Ockhi cyclone. One fisher drowned and died," narrated Libin. For three days, Libin and his fellow fishers kept moving around the rough sea. Finally, on December 2, they reached the shore along with the body of dead fisher.
"Because of fear of wind and sea, Libin did not go fishing for a year. We had to take a loan from a private money lender to make both ends meet. The loan amount now stands at 12 lakh," informed Robin Mary, wife of Libin. It is only in the last eight months that Libin has started venturing into the sea for fishing as he has to raise two young children.
J Anthony of Fishermen's Colony in Kollamkode, Pozhiyoor (Kerala) is traumatised as he was stranded in the rough sea for 10 days. "We were 90 nautical miles way from the coast when our boat was caught in the Ockhi cyclone. High-speed winds and waves pushed our boat to 300 nautical miles away," he narrated as he cried.
On December 2, a Navy helicopter spotted Anthony and nine other fishers in the sea, and air-dropped some biryani and drinking water. Finally, on December 8 a fishing vessel found their dilapidated boat, tagged it and brought them to Kochi harbour.
According to Edwards, cyclone Ockhi has been a big learning as the government realised the existing communication systems were not sufficient to deal with disasters such as Ockhi.
"We have prepared a three-tier communication system for the fishers and are working closely with institutions, such as NIOT [National Institute of Ocean Technology] and NCCR [National Centre for Coastal Research], to use science and technology to pre-warn the fishers," he informed. Similar efforts are being made by the Kerala government, too.
The second part of this story, to be published shortly, discusses how science and technology is being used to collect ocean and atmosphere data to forecast cyclones, develop mobile apps and other communication systems to pre-warn the fishers.
This story was produced with the support of Internews' Earth Journalism Network.